Ok, this is a pretty deep topic, but I think that's what makes it so interesting!
As today is International Women's Day, I thought it would be an opportune time to discuss and think about how as women, we can be more confident – in all aspects of our lives. This article is in very proud collaboration with Debenhams, a UK fashion, beauty & home brand that are looking to champion women and boost the confidence we show on the outside. Through helping us find the perfect foundation, to ensuring we're wearing the correct sized lingerie (that last point really makes a difference!!)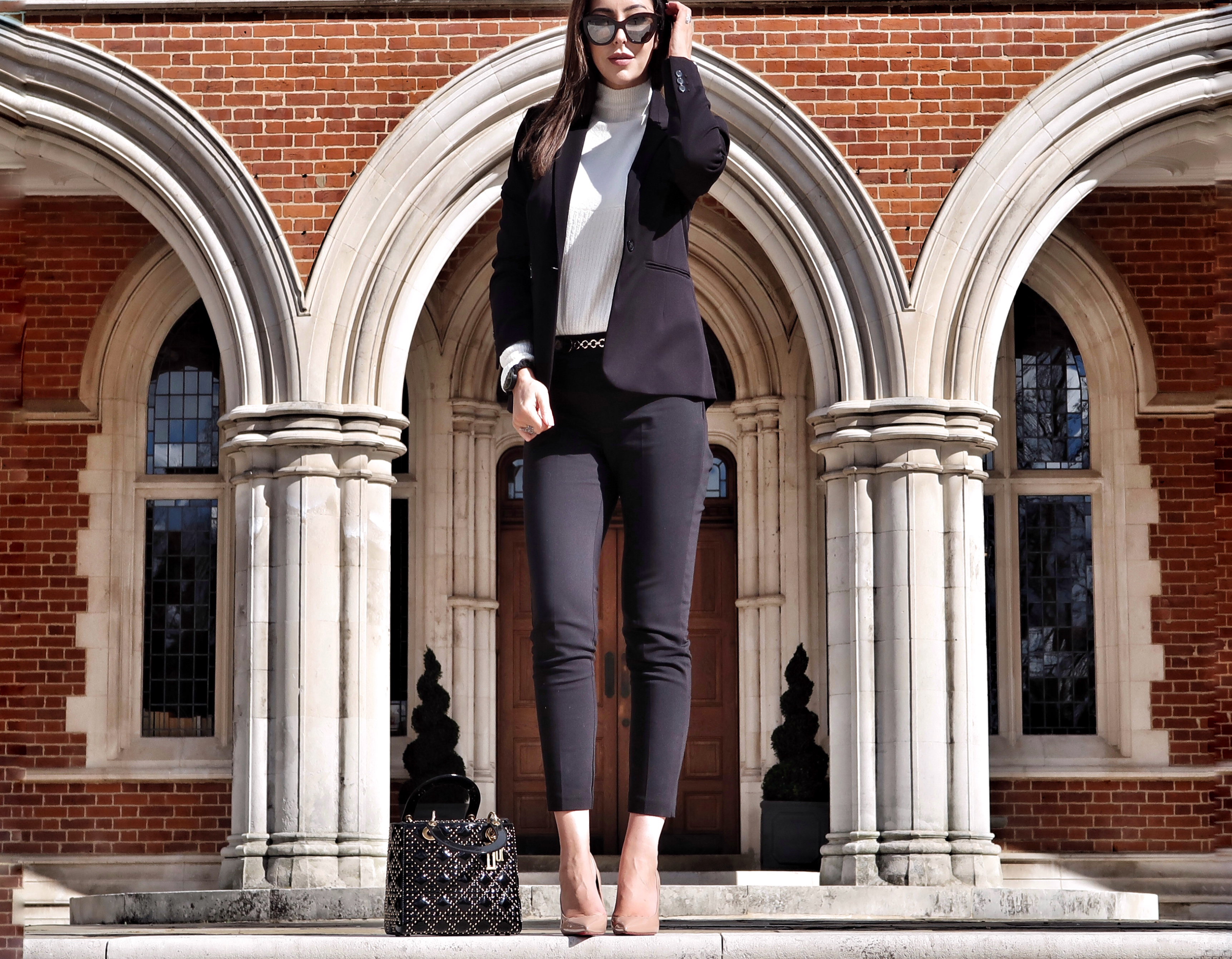 Blazer - Buy here
Trousers - Buy here
Cream Jumper - Buy here
Lipstick - Buy here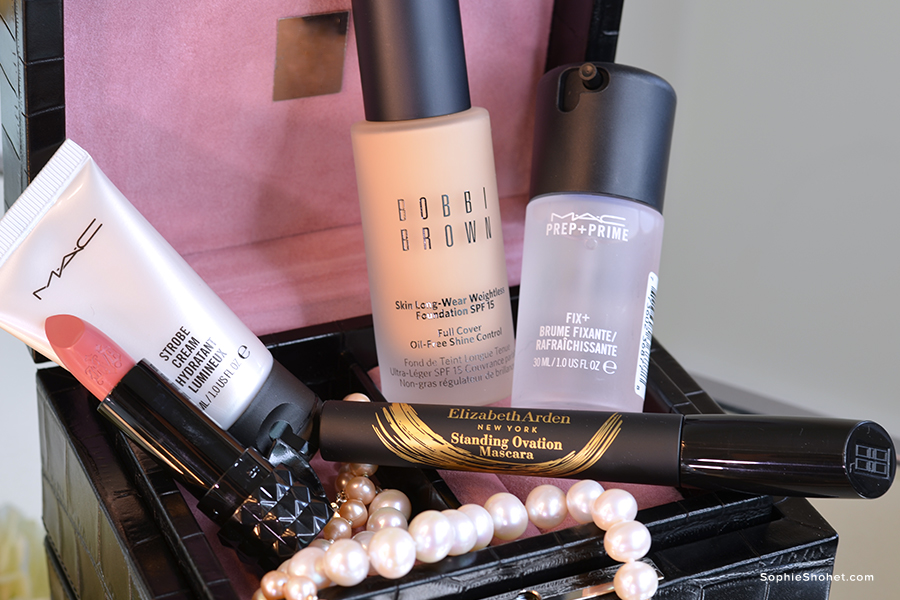 Above Image (Left to Right): Lipstick 'Lovecraft', Little Mac Strobe Cream, Elizabeth Arden Mascara, Little Mac Fix +, Foundation
Debenhams has always had fond memories for me; it's a store my whole family shopped in growing up. Most weekends my parents, grandparents and sometimes my cousins too would all take a trip to the store. If we were lucky, us kids would get to eat lunch in the café and pay a trip to the toy department.
It's very much a one-stop-shop; a place where you can browse and buy men's/women's/children's fashion, through to suitcases and dining sets – it really does offer the full package!
But what I think it's become best known for in recent years is being the one place in the UK where we can buy US beauty brands, from Too Faced to Kat Von D. They also have an exclusive DD+ luxury lingerie collection called Gorgeous DD+. The SS18 line is arriving in-store and online from February, fronted by the beautiful Joann Van Den Herik (cousin to Gigi & Bella Hadid).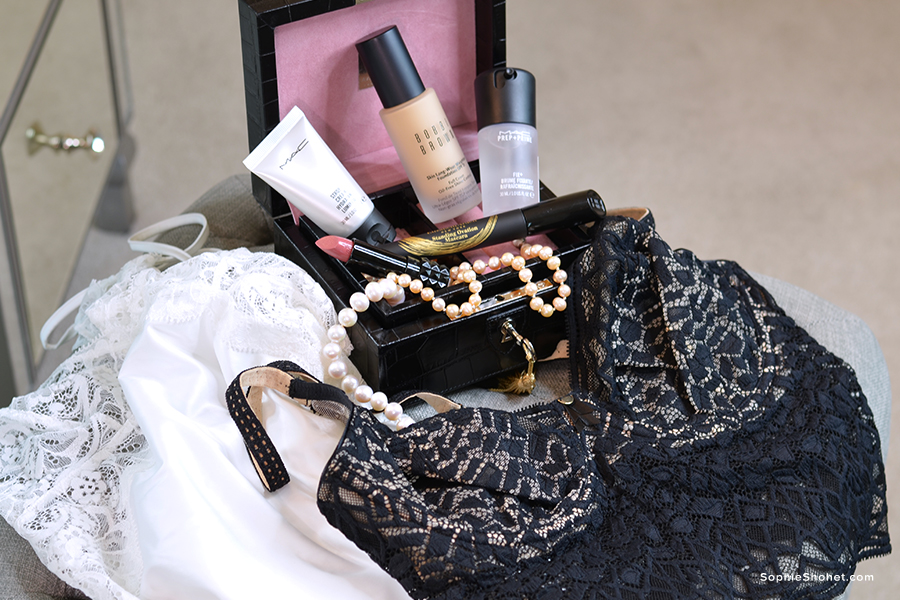 Above Image (Left to Right): White Chemise, Black & Nude bralette, Lipstick, Face Cream, Foundation, Makeup setting spray
I can't help but feel that certain pockets of society still seem to associate confidence in women either to sex, or to a sense of unladylike cockiness.
Whereas, for a man to be confident is about success, drive, charisma, popularity.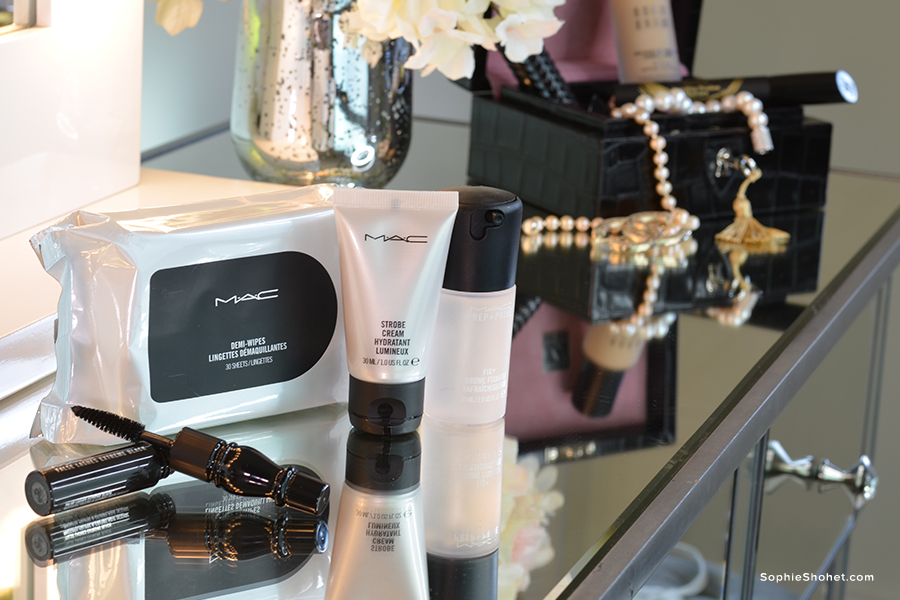 Above Image (Right to Left): Mascara mini, Makeup remover wipes, Illuminating face cream, Makeup setting spray
Are we as women preconditioned to play-down our confidence? If someone pays us a compliment – be that on how our hair is looking that day, through to the promotion we've just achieved…. how many of us feel a little awkward and tend to reply with something that essentially puts ourselves down?
Confidence is such an important asset to have; it goes hand-in-hand with self-esteem and can also make you feel a great deal more assertive and driven to aim for what you want in life.
So how can you be confident when you don't feel it?
I'm going to break this down into mind and body…….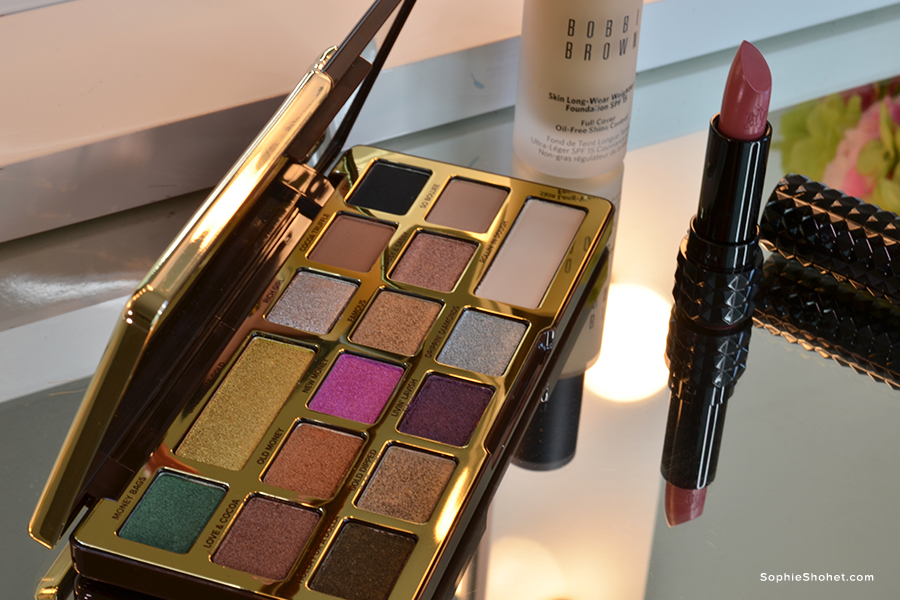 Above Image (Left to Right): Eye palette, Lipstick in 'Lovecraft'
Body
Feeling body confident: Being comfortable in your own skin is critical for feeling good and acting confidently. Wearing the right outfit and being well groomed can really lift your mood and make you feel determined and on your game.
If you're looking for a boost, try upgrading your lingerie. It may sound strange – I mean, who is going to see it?! But nothing quite beats that feeling of brand new lingerie (that all matches and hasn't yet been ruined by the washing machine!)
My favorites are this luxurious Reger by Janet Reger chemise and anything by Freya – their bras are comfortable, pretty and give great support. Shape wear is also excellent for making you feel good. I have a pair of Maidenform black leggings that I love wearing with boots and a blouse. They are both comfortable and make you feel 'tight'!!
Fitness & Health: Exercise releases endorphins in the brain (AKA, the feel good chemical). Taking pride in your health and seeing the results in your body is a huge boost to confidence. It can also help you sleep better, which has a whole host of benefits – including better skin, faster cell turnover, metabolism and mental alertness.
Personal style & makeup: Makeup and fashion styling are BIG in the confidence game. Speaking for myself, I could be feeling terrible inside – but if my hair, makeup and outfit are all looking good, I can easily fake confidence that day.
Trying a new lipstick, changing your style of attire – even double-checking that your foundation is the right shade for you. All are great for boosting self-esteem.
Some years back, I wasn't even sure what colour I was in foundation. I always felt a little awkward when I'd leave the house in the bright light of day, incase what I had on was completely wrong or I had the dreaded line on the neck where it meets your real skin colour. Getting colour matched is a really good idea and is something you can have done for free at any Debenhams store.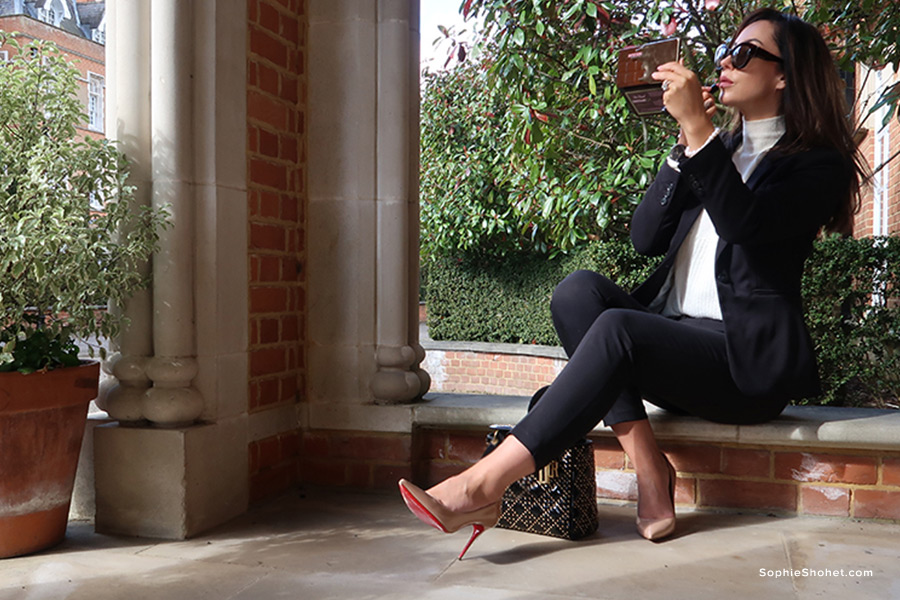 Above Image: Trousers, Cream jumper, Blazer jacket, Mirror/palette, Lipstick
Mindset
Growing-up I was not at all confident, I was also very shy and quiet and I hated it. From being picked to read aloud in class, through to handling myself in the workplace during my first job – confidence supports us. When we are lacking in it, we feel it.
Visualisation & Method Acting: Weirdly, despite being shy and pretty awkward growing-up, I really enjoyed dancing and acting. I had an epiphany moment when I was about 12 years old:
 - Why was it that my awkwardness went the minute I was on stage? -
It was because when on stage, I wasn't me. I was playing a character and so hid behind the attributes of the role I was in.
This skill is one of the best and most used tactics I have adopted to this day. Try it – next time you are in a situation where you need to be confident and assertive, personify a strong character from a film you've seen. Behave in that situation the way your character would.
It may sound strange, but it's been a really effective method for me over the years. It's also pretty instant, which is great when you need to get yourself together quickly!
Meditation & Self-Esteem: Take a moment each day to meditate and really visualize yourself as the person you'd like to be in the various circumstances that might present themselves to you. There are some really good confidence-boosting motivation videos on YouTube that I HIGHLY recommend! Accepting, loving and respecting yourself is key, confidence grows from high self-esteem.
Helping others: Nothing boosts confidence more than helping others in need and seeing the benefit we can make to those we help.
You might be thinking "I've got a meeting tomorrow and I need confidence NOW, I don't have time to help others!" But building confidence is a slow process. When we help others in times of need, it makes us and them feel good, which boosts confidence and encourages us to step-forward in future situations we think we can affect and add benefit to.
What I wore
Blazer - Buy here
Trousers - Buy here
Cream Jumper - Buy here
Lipstick - Buy here
---
Do you have any tips for boosting confidence that works for you? Do you agree or disagree with how confidence in women may or may not be perceived by society?
Please share your thoughts and opinions below!
Competition
I am giving one of you the chance to win this Too Faced Chocolate Gold palette, which I know you will love - it smells amazing!
All you have to do to enter is leave me a comment below, it can be on your tips for gaining confidence or just your thoughts on the topic in general. I will pick 1 winner on Monday 12th March 2018 at 12 Midday GMT. The competition is open to all internationally. PLEASE NOTE: When you leave a comment below it won't show immediately as I need to approve it, so please only leave one comment - I will put it live, do not worry! Good luck x
*This blog post and associated images and video have been created in collaboration/sponsorship with Debenhams, to celebrate International Women's Day 2018. I have not been scripted in terms of my views or recommendations. Makeup and lingerie were kindly gifted to me by Debenhams – to whom I am very grateful and have enjoyed working with on this!