Setting a good work/life balance can do wonders for your mental and physical health. It can also improve your relationships, help if you're feeling that void of "emptiness", and enable you to do the things you actually want to in life – and – it can actually improve your efficiency when you're at work.
I'm self-employed and currently work two jobs, both of which I do from home. This is actually not a good thing (despite the fact that I can do a 9-5 in my pyjamas, which is actually quite nice haha).
You see, the line between my work and personal time can REALLY easily become blurred and I can go weeks, even months working straight and using any free time to clean the house, or do some other mundane task that needs addressing. It's really unhealthy and leaves me feeling yucky
Do I really want to look back on my life from my deathbed and remember the hours spent at my laptop - eating my lunch out of a microwavable bowl that'll still be festering on my desk the next day? NO I do not!!
So here are my 4 tips on taking back control. I want to add that this is something that takes dedication to maintain; I frequently slip back into old ways and have to revisit these rules!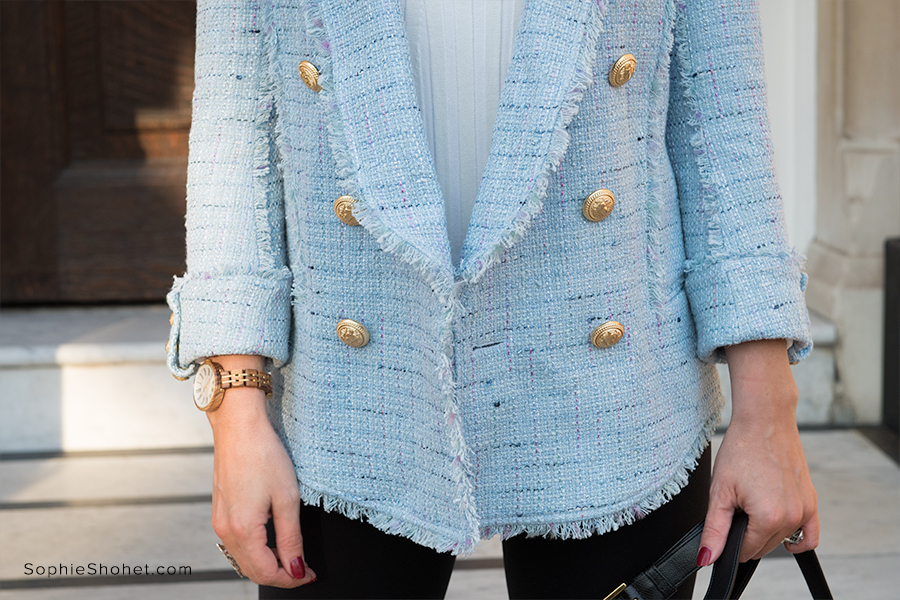 WHERE TO GET IT// Blue Tweed Blazer, Black Trousers, Handbag, White Knit Top, Boots, Sunglasses
Do you know how you want your life to be?
Do you actually know how you want your life to be? Are there things you want to accomplish? Places you want to visit? Maybe you want to spend more time with your loved ones, work to get a promotion or take on a new hobby?
I ask these questions because if you don't know how you want to spend your time, you won't have the incentive to use it and use it wisely. At one point, my life was so "work" focused that I dreaded the weekends because I didn't know what to do with myself. I remember many Saturdays where I'd wake up, get dressed, have nowhere to be and no incentive to leave the house - and I'd end up battling really bad depression for the rest of the day.
Plan your weekends and evenings, set dates with friends and family so that you have a plan and a focus. Book a trip away and book it a few months or even a year ahead – this will give you a nice focus and it gives you time to save towards it too!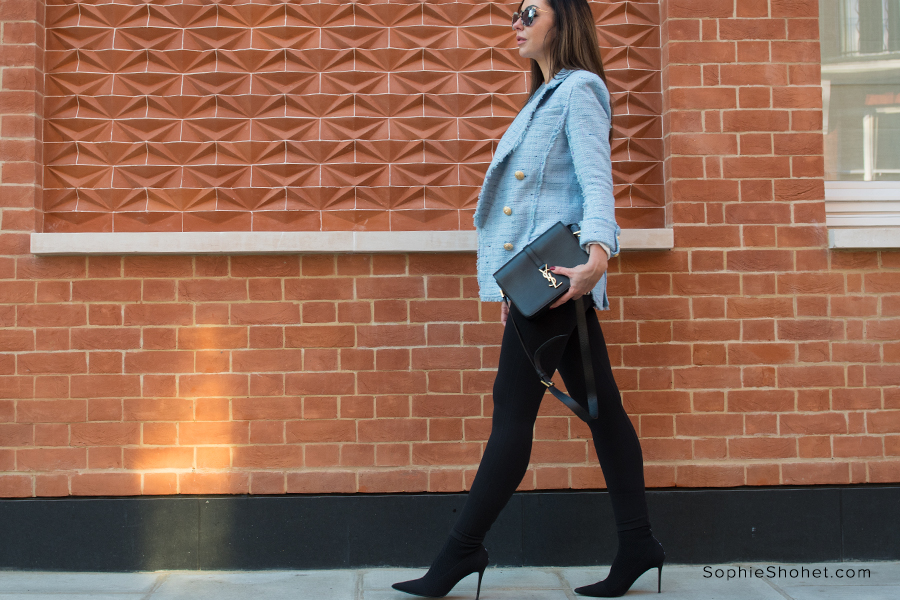 WHERE TO GET IT// Blue Tweed Blazer, Black Trousers, Handbag, White Knit Top, Boots, Sunglasses
Organisation
Set a schedule in your diary where you do certain tasks at certain times in the week. If you don't get your tasks done within that time allotted – tough.
MAKE yourself work to these timescales, it will make you work smarter and more efficiently, and it will provide you with well-needed time off.
Consider set (sit down, away from a screen) mealtimes too. When we're busy they are one of the first things to go, get away for your desk for 30-60 minutes a day if you can. Take a walk, phone a friend for a catch-up… simply step away from your screen for a bit. It's good for the soul!
Automate tasks such as the grocery shopping; ordering online will save you the bore of having to spend your Saturday afternoons in Waitrose.
WHERE TO GET IT// Blue Tweed Blazer, Black Trousers, Handbag, White Knit Top, Boots, Sunglasses
Prioritise
Some things can wait whilst other things can't. For example, unloading the dishwasher. So what if you have no plate? Use a tupperware lid or something (that's a partial joke, but what I'm saying is leave the mundane until later! Get out and use your free time to do what you want!)
If I have a list of urgent tasks and a few that don't have a timescale at all – I know that my brain will want to get the unimportant things done first. This is because normally, they are easier than the critical stuff and I don't have to think too hard about it. But then it leaves me with less time for the critical stuff and that's when I end up working late.
Work smart, if you're short of time get the urgent stuff done first.  
Learn to delegate and ask for help; whether it's to colleagues at work or to your partner or family if the house is a mess! Spreading the burden will help free-up your time and gets the job done quicker.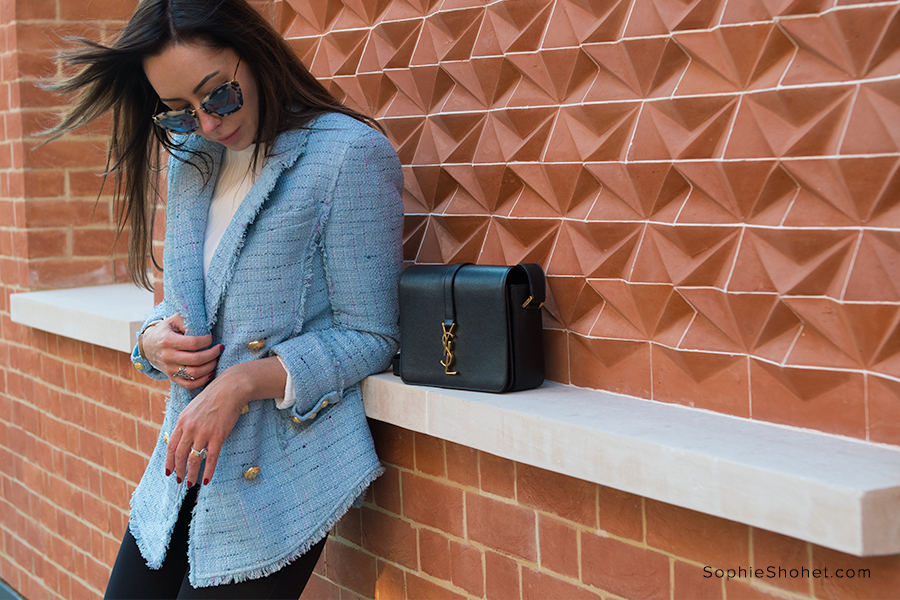 WHERE TO GET IT// Blue Tweed Blazer, Black Trousers, Handbag, White Knit Top, Boots, Sunglasses
Learn to say 'No'
I once worked in a job where I would say 'yes' to pretty much any task or job that was passed to me. Come 6pm most evenings, I'd be one of the last few left working overtime in the office, while those who had delegated went home to their families and friends.
Breaking the habit of saying yes, not just at work but also outside of work, can feel really alien if you aren't used to it. It can also feel like we're letting others down.
But it is most important that we only take on what we can manage. Whether that's a project at work, or agreeing to look after our best friends kids on the weekend.
One great bit of advice that I was given a few years ago was that if you agree to do something but you feel an inner resentment at having to do it, you are doing it to please and not because you want to. Remember that ;-)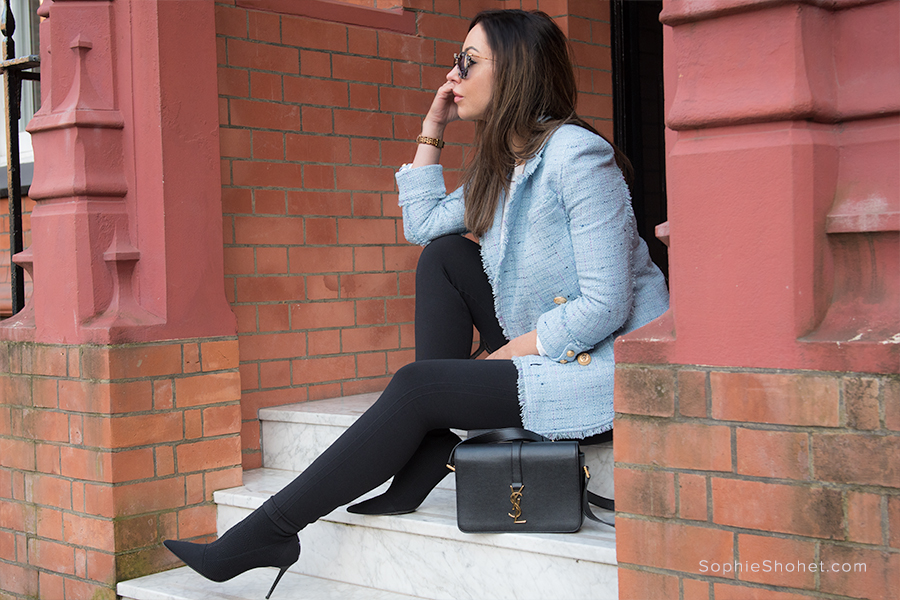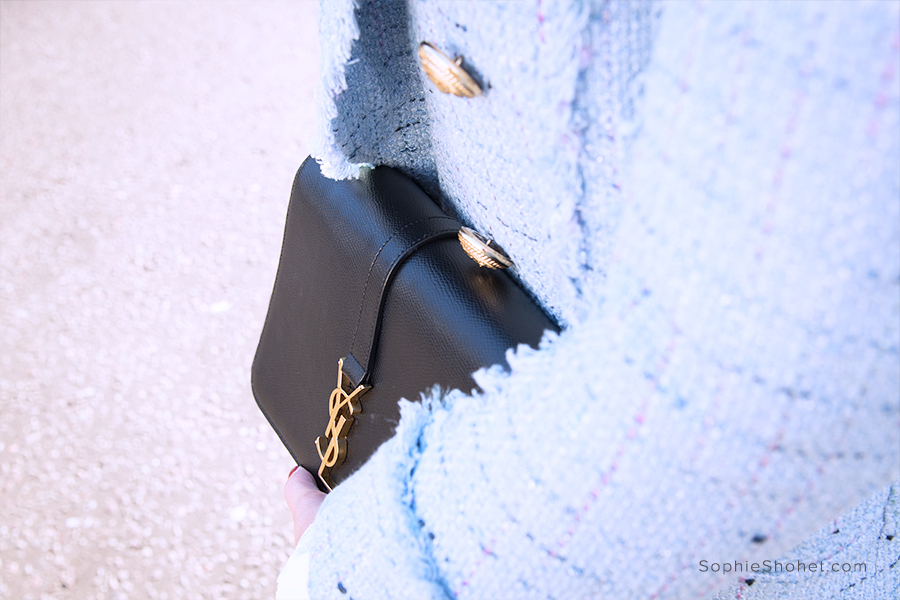 WHERE TO GET IT// Blue Tweed Blazer, Black Trousers, Handbag, White Knit Top, Boots, Sunglasses