Autumn is one of my favourite seasons in fashion. An old colleague once said to me "I love it in September when the warmer clothes and accessories begin to arrive – that's when things start to get interesting!"
I remember thinking that she had a very good point.
When it comes to styling and the onset of a new season, Instagram sometimes has me feeling a bit dowdy!
When I look at the beautiful fashion bloggers walking around the city streets in the day, wearing long frilly floral gowns, it has at times made me wonder if I need to scrub-up a little.
But the fact is, for most of us, such attire isn't practical and it's not real-life.
"We all have a signature style that works for us, a certain 'look' that we feel comfortable and confident in."
We all have a signature style that works for us, a certain 'look' that we feel comfortable and confident in. Whether it is indeed a floral gown or perhaps jeans and a t-shirt, we all have a 'go-to' and trying to force yourself into a new season's style that isn't 'you' can end-up being a waste of money.
So how can we incorporate each season's trends, whilst staying true to our own personal style?
The fact is you're likely already doing it without even knowing! Clothes from the likes of ASOS, Topshop, Karen Millen – they have all been inspired by various key trends.
So if you buy what you like, you may later discover which elements have been borrowed from which designer houses.
"So how can we incorporate each season's trends, whilst staying true to our own personal style?"
If however you want to be a bit more strategic, I recommend doing a some research on the season's key looks and picking which ones you like best to adopt....
Here are some of my favourite trends for the season:
---
Burgundy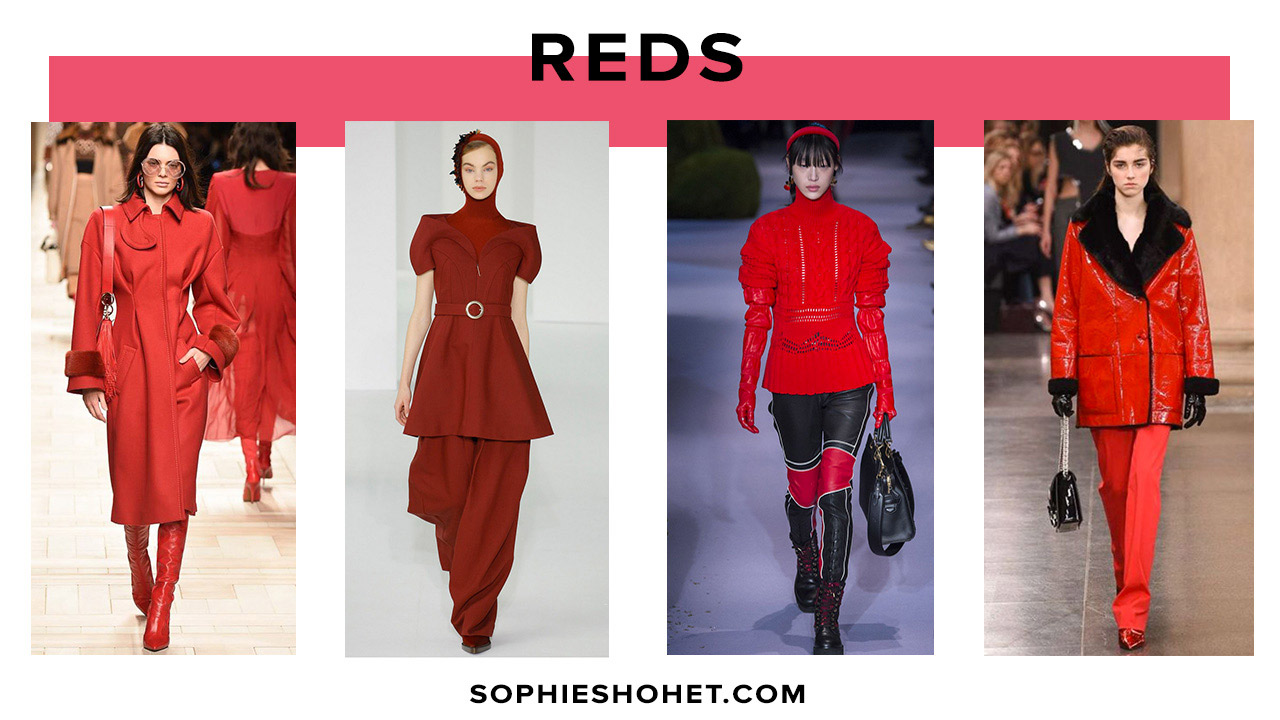 Red, along with blue, is one of the key highlight colours for AW17. The catwalk has seen the shade represented in bright scarlet, through to orangey tones and burgundy.
Pick whether reds or blues are best for you and then decide on the tone. For me, I am delighted to be able to get into the maroons and burgundy tones!  

I love this maroon knit from Ted Baker, the particular tone of red is beautiful and the large satin bow lends itself to this season's decadence. (You can remove the bow btw!)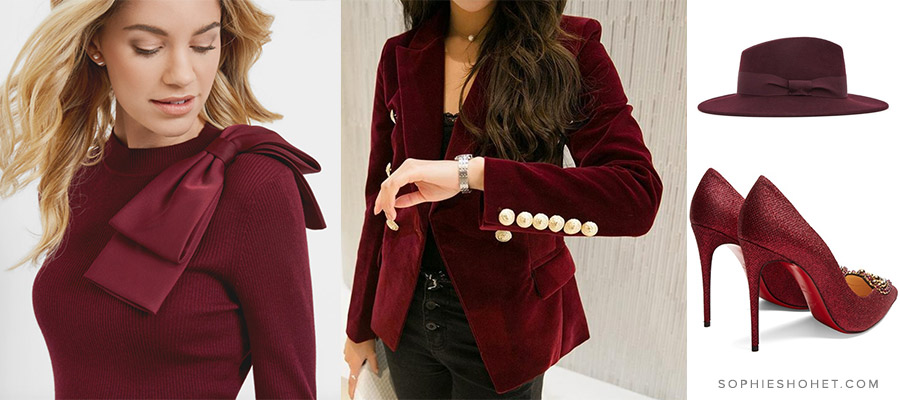 Where to get it //
Burgundy Knit with Satin Bow, Velvet Blazer with Gold Buttons, Maroon Embellished Heels, Burgundy Fedora Hat.
---
Capes & Cardigans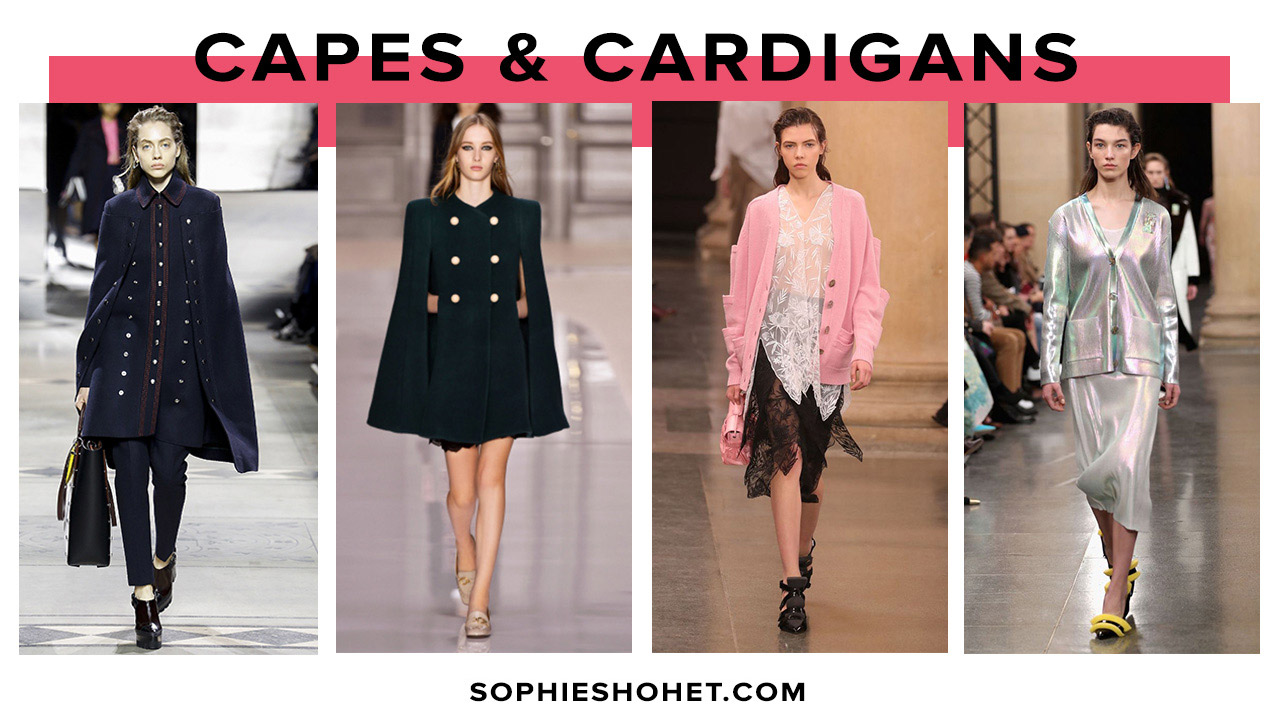 Capes are big every AW, but this year it's about added detail. Take for example Gucci's beautiful gold-buttoned cape with slightly structured shoulders (pictured above, second in from the left). Or even cardigans in bright colours and textures. Chanel have led this season with a space-age / futuristic vibe, so get ready to see lots of metallic silvers and holographic materials.
Great example of a cape/cardigan is this black knit from Karen Millen, complete with gold button details.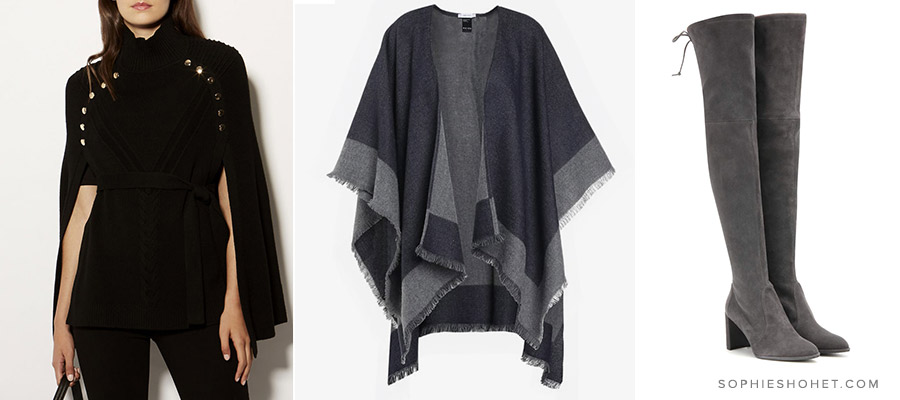 Where to get it //
Black Cape Knit with Gold Buttons, Grey Cape, Thigh-High Boots.
---
Feathers & Fur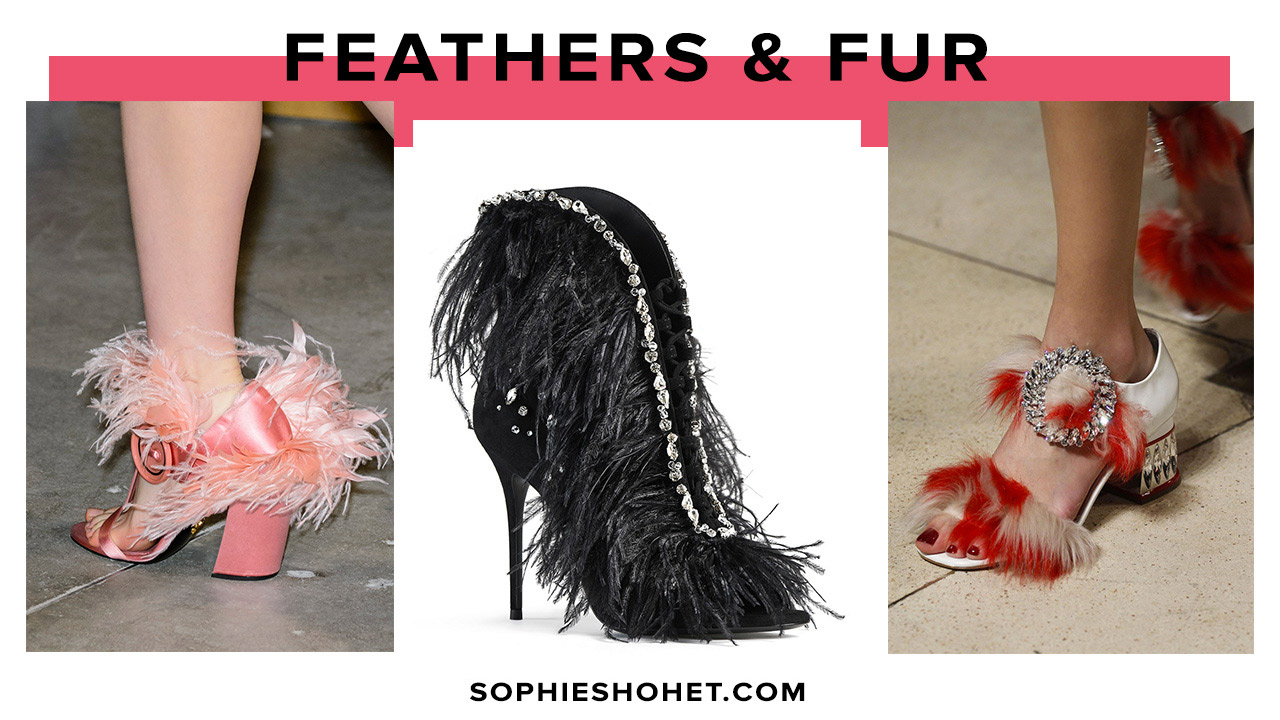 Fur is an element we see in most AW collections, whether it's accents such as cuffs/collars – or a full-on coat. This year the trend is for full-on 70s style fur coats (not something I love tbh, but faux options are out there and they are lovely!)
Additionally feathers; prepare to see them as accents on shoes, bags and even full-on jackets.
I have two favourites for this trend and both are jackets! The first is this faux fur from Reiss, available in pale grey and black. I have it in the black and it feels real, is warm & snuggly plus looks incredible on.
The second are these beautiful marabou feather jackets from Etsy, I purchased one last winter in dark grey. It is (quite literally) light as a feather, but warm to wear.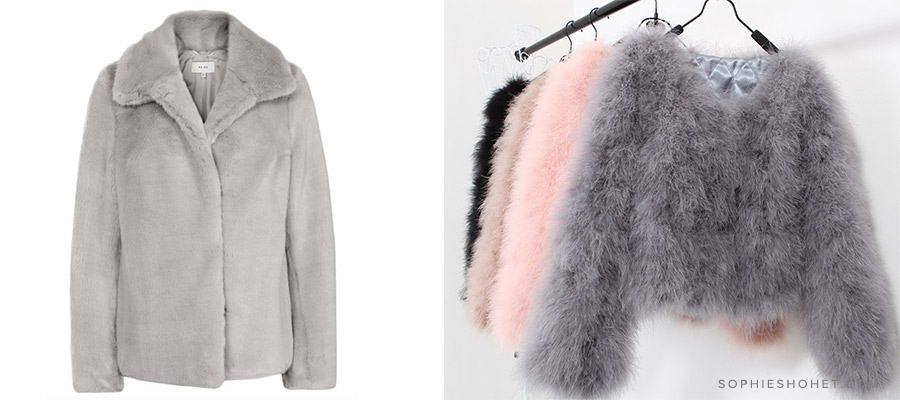 Where to get it //
Pale Grey Faux Fur Jacket, Marabou Feather Jacket.
---
AW17 Knitwear Trends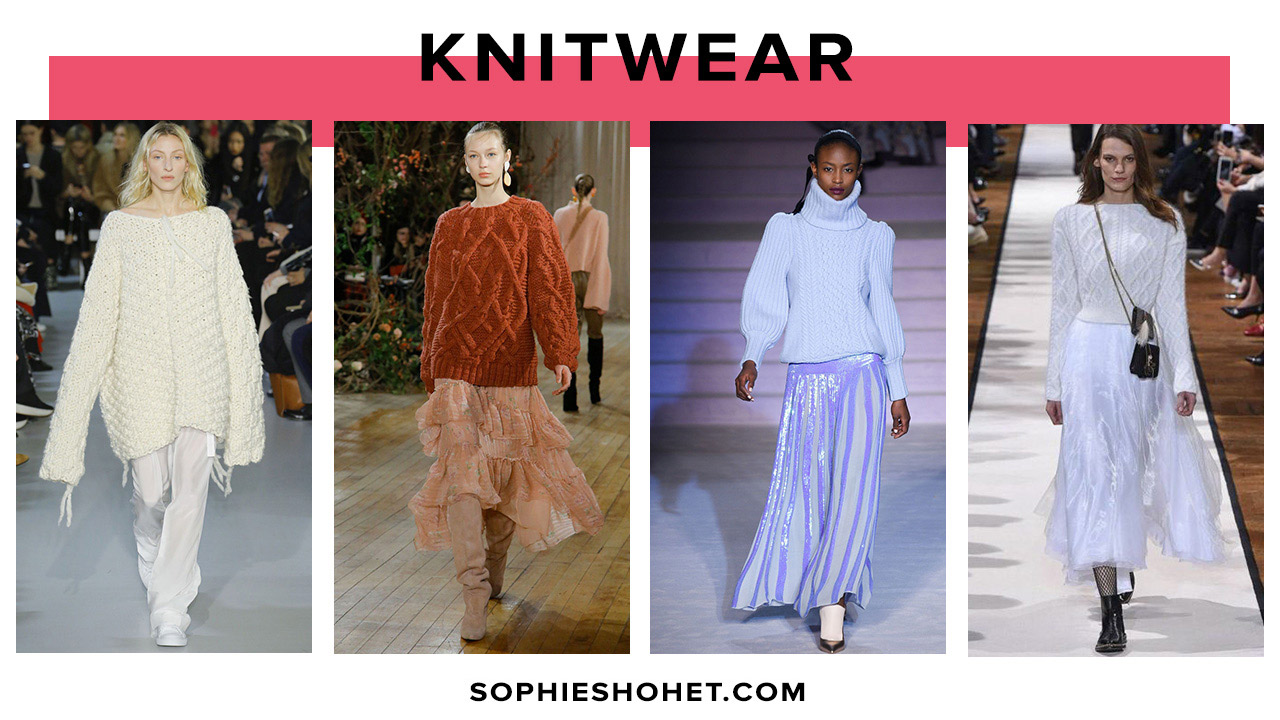 Knits this season a BIG. Expect to see loose knit dresses to the knee or lower. Cable knit is also back, as are those 90s striped knits you were always given at Christmas.
The great thing is that with fashion trends, there are no rules and you can decide how far you embrace a trend. I love this oversized beige knit from Reiss, which looks great with a belt around it. I also like this jumper from Ted Baker, it's not oversized in any way but has the ruffles on the shoulder that remain 'in' as we enter the colder months!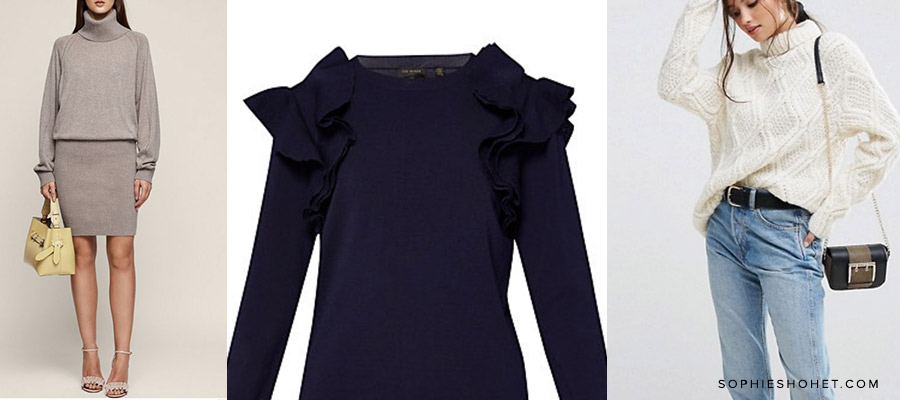 Where to get it //
Beige Knit Jumper Dress, Navy Frill Shoulder Jumper, Oversized Cable Knit.
---
The 90s Suit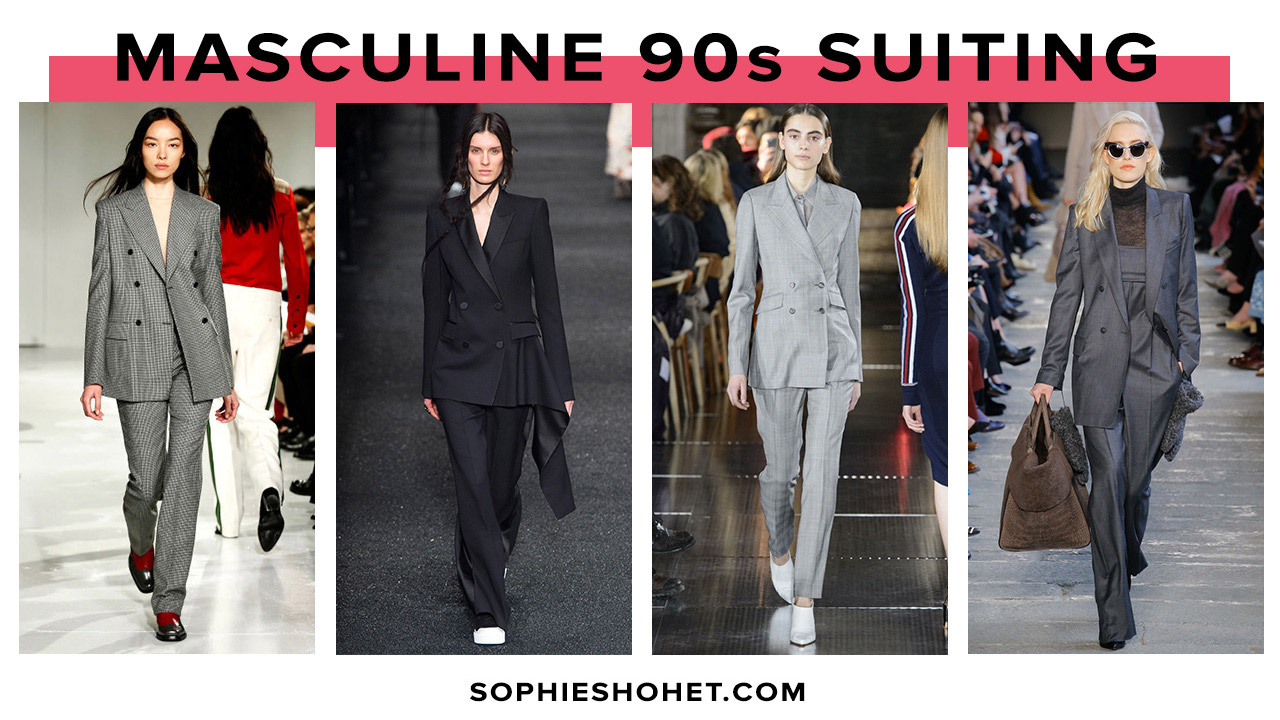 The 90s suit, something I hoped I'd never see again! It's double-breasted, loose fitting, cut for a masculine shape. The popular colour to wear this in is a pale grey.
Honestly, I can't see anyone adopting this look in reality. I could be wrong, but it's just a little too much! However, elements have trickled into our High Street stores and there are a few practical things that could work well for work or weekend.
Take a look at Reiss' double-breasted 'Nola' blazer, it has a slight tuxedo look to it and could be a timeless edition to have in the wardrobe.
If you want to incorporate the 90s suit trouser, take a look at their range of trousers for something you could easily wear into the office or out for dinner.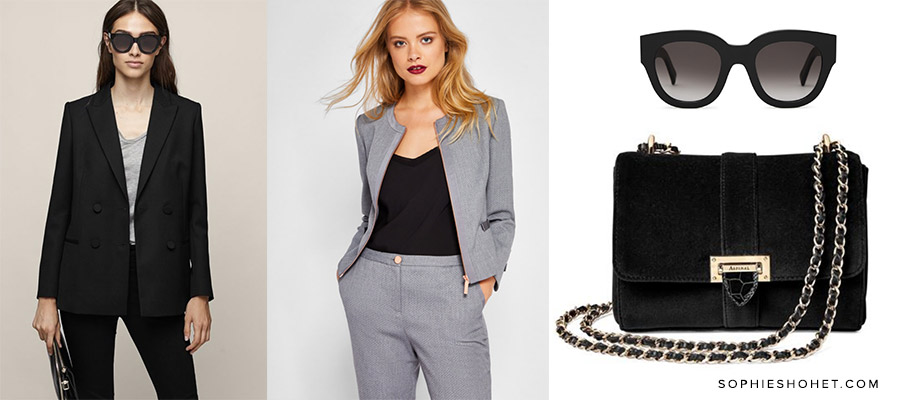 Where to get it //
Black Double Breasted Blazer, Grey Suit (Jacket & Trousers Separate), Velvet Black Handbag, Sunglasses.
---
Tartans & Tweeds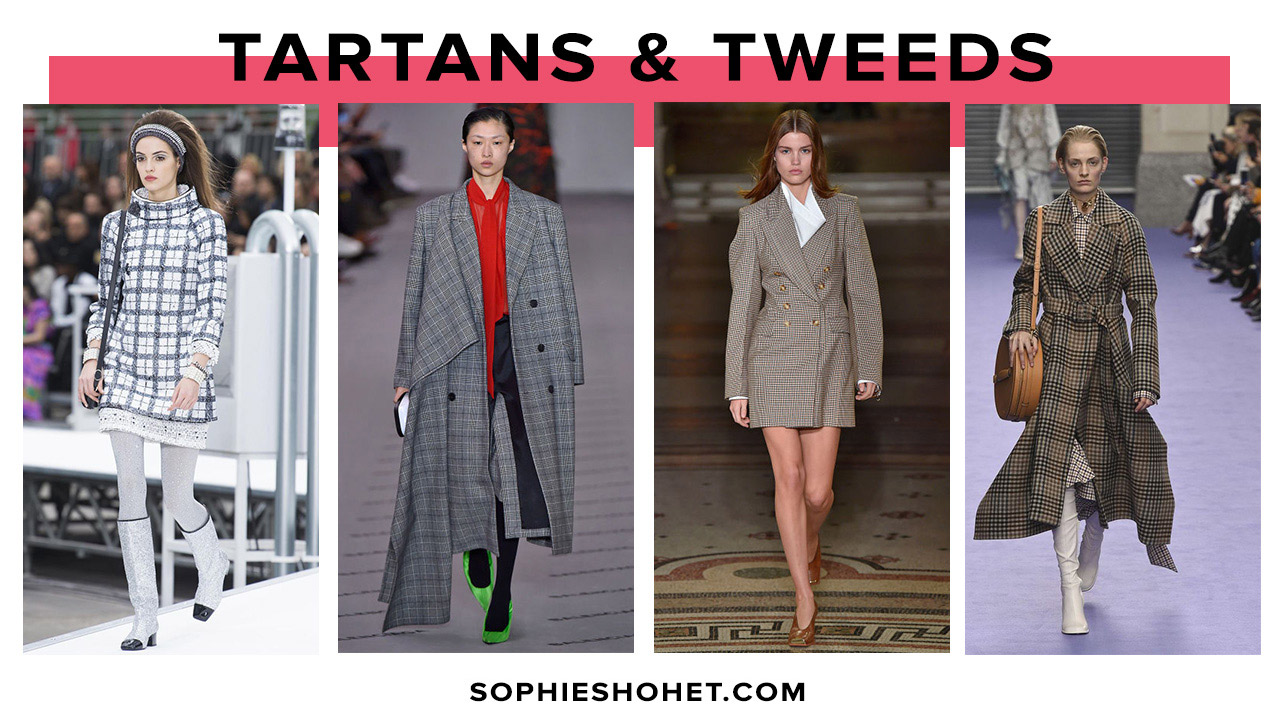 Tweeds & tartans in rural countryside utilitarian forms are the thing right now. Personally if you are considering adopting this look, I would suggest doing it via a classically cut piece. The sort of item that if you ignored the fact it's plaid, you could see yourself able to wear it time and time again.

I really like this option from Balmain. This blazer has been around for many years and has developed a cult following.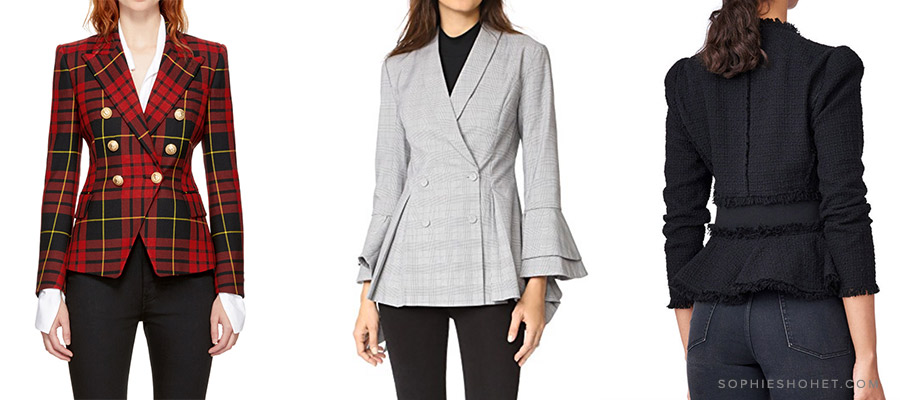 Where to get it //
Red Tartan Blazer, Grey Check Jacket, Tweed Boucle Peplum Jacket.
---
Velvet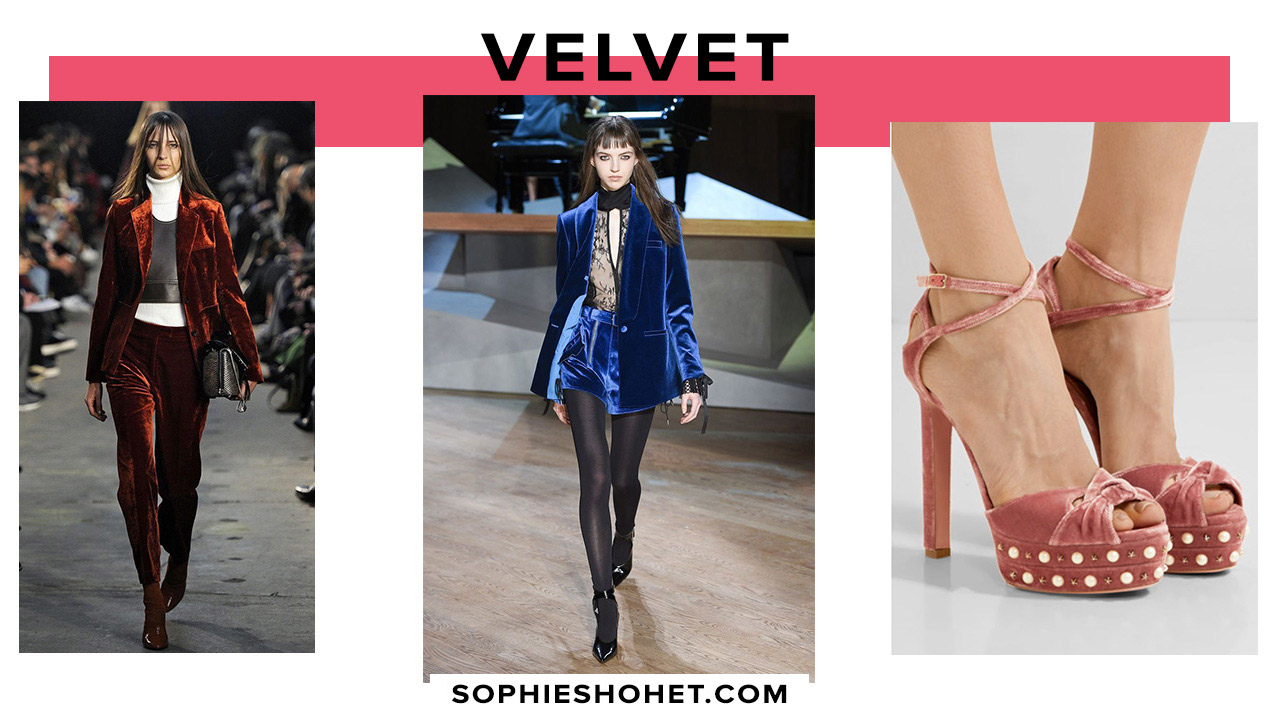 I noticed velvet creeping-in back in the AW15/AW16 collections. It made its way in via subtle additions: on footwear and handbags. The trend looked a little retro to me last Autumn, but with it coming back in a year on it's starting to grow on me. Gucci's velvet Marmont handbag is one that has always caught my eye, and Saint Laurent's new season College bag with added velvet accents is also on my mind. But I'm always nervous about buying into trend, especially when you're spending over £500 on something.

A great way of getting on the velvet theme without being left with an off-trend designer item that you can neither wear nor sell, is to buy lesser expensive elements to pull the trend in.

I love this deep maroon velvet blazer, it reminds me of Balmain but is a fraction of the price at only $20.00.
---
Fancy Footwear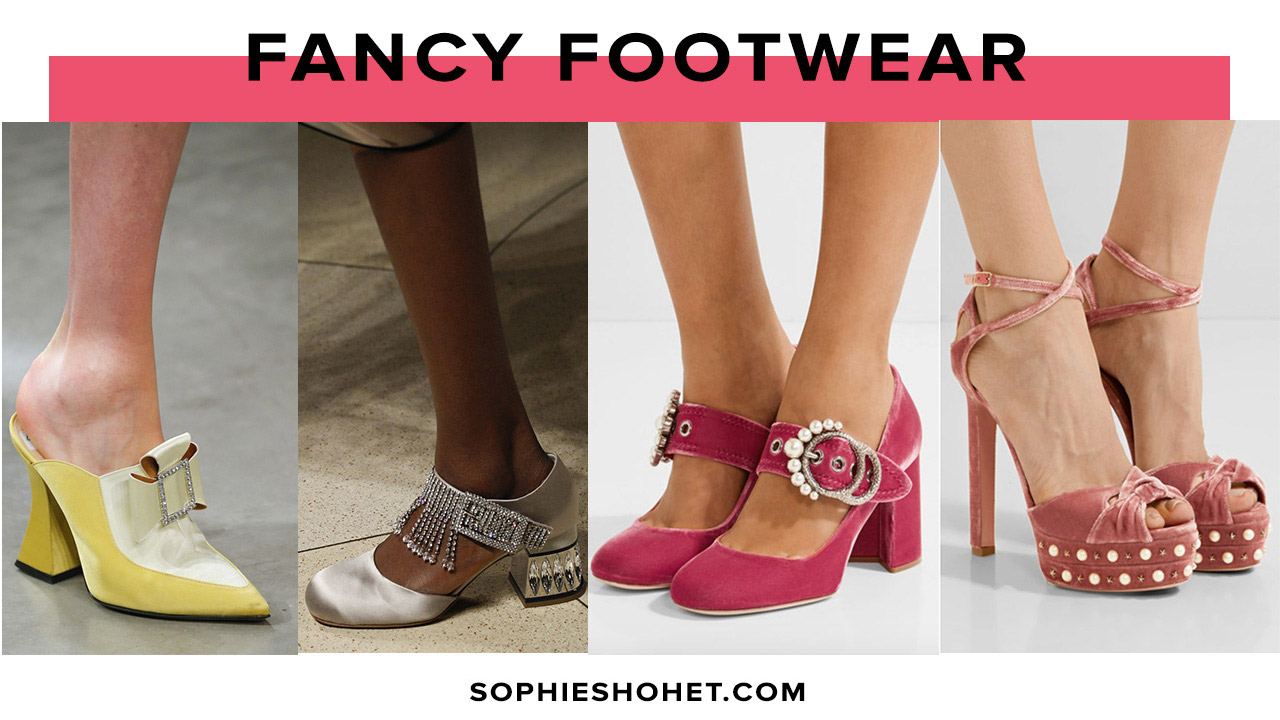 Ahh, the best bit!! The shoe trend for AW17 is very much up my street; decedent fabrics of velvet, jacquard & satin. Embellished with feathers, beads and an overall quirky shoe design. The result is both exotic and interesting.
I LOVE what Miu Miu are doing this year, their range of mary-janes and pumps in velvet have really caught my eye. A great alternative to the hugely popular Gucci Marmont pump, if (like me) you struggle to comfortably walk in Gucci's higher heeled option, but who don't like the aesthetic look of the lower heel – Miu Miu might have a solution for you, in the form of an 85mm heel on a very similar looking shoe.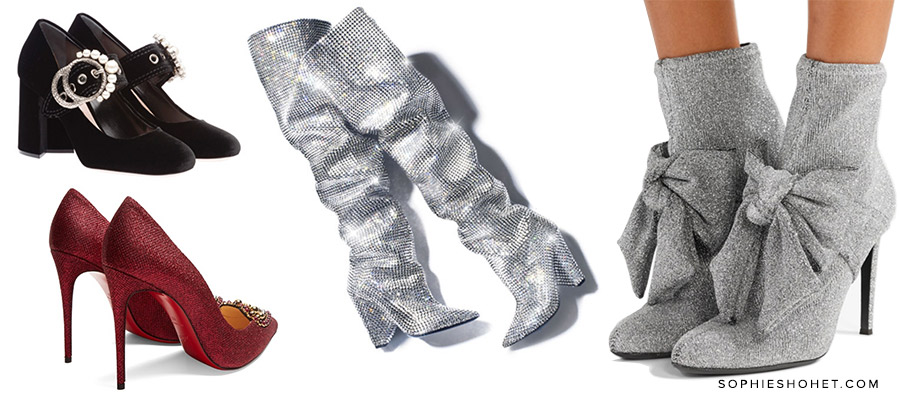 Where to get it //
Black Mary-Jane Pumps, Red Heels, Swarovski Embellished Long Boots, Silver Metallic Bow Ankle Boots.
---
The Season's Handbags
Handbags seem to fall into two categories: Function & Fun.
From the likes of Chanel, many of the seasonal styles are somewhat 'saggy' and a relaxed shape. Whilst on the other hand, expect novelty mini bags in crazy designs – including the Rocket handbag from Chanel's Space inspired AW17 collection.
If you're thinking of purchasing this, it will set you back £10,800!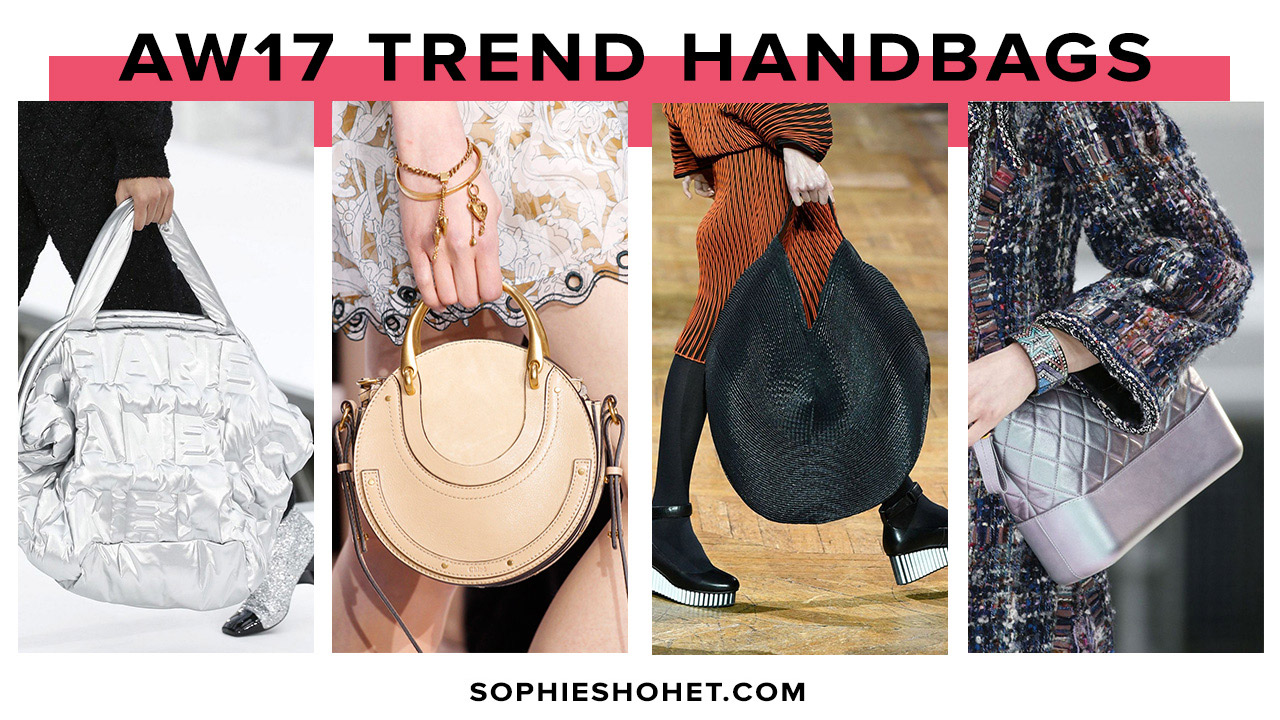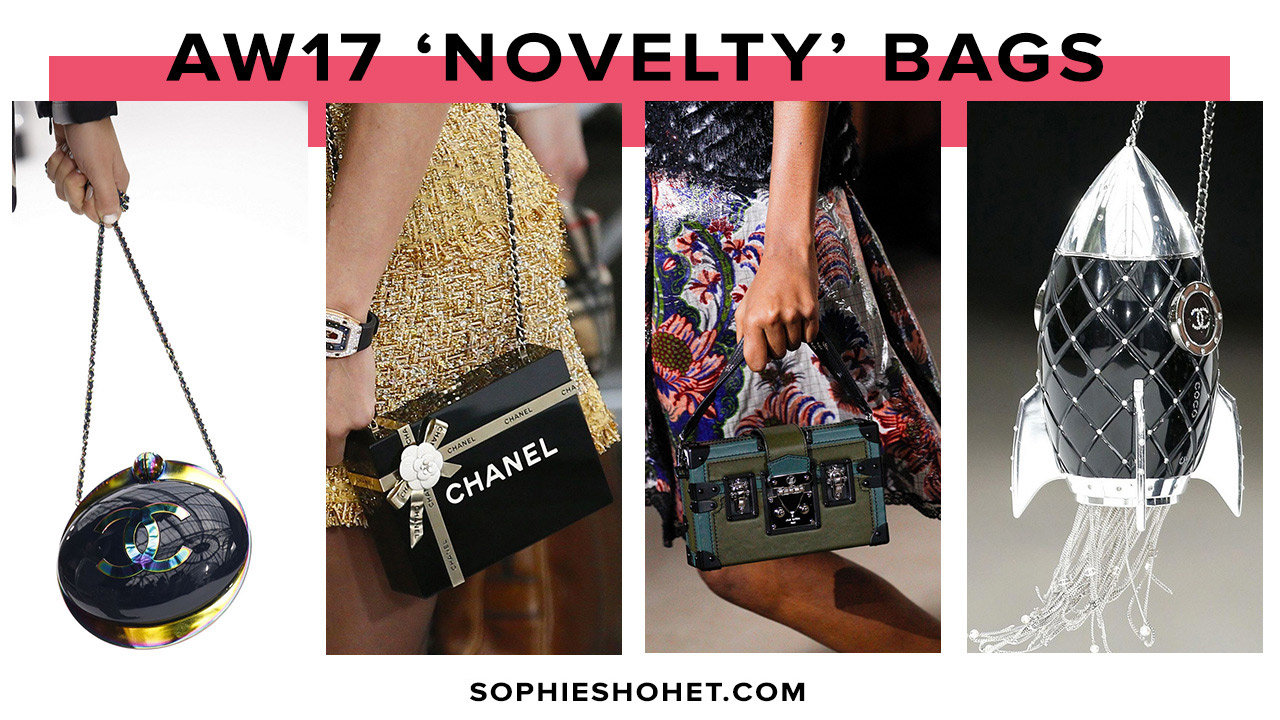 ---
Have your say:
What do you think of the AW17 collections? Are there any elements you love, or do you perhaps dislike all of it?
Do you have any tips that work for you when it comes to feeling like you're behind the latest trend, but in a manner that is affordable?
---
Browse more AW17 fashion: